Douglas A. Kerr is a retired telecommunication engineer. He has over 65 years experience (professional and avocational) in the field of telecommunication systems and equipment.

Doug received the Bachelor of Science degree in Electrical Engineering (Telecommunication Specialization), from Case Institute of Technology in Cleveland, Ohio (now the Case School of Engineering of Western Reserve University), cum laude, in 1957.

The early part of his professional career was spent with the former Bell Telephone System, including assignments with Ohio Bell Telephone Company, American Telephone and Telegraph Company (the headquarters engineering staff), and Bell Telephone Laboratories. Subsequently, he was associated with a number of industrial firms.

From 1973 through 1977, Doug was president of DeVry Institute of Technology at Dallas, an accredited baccalaureate-level engineering technology college (now part of DeVry University).

Doug founded his own consulting engineering practice in 1983. From 1986 on, a large portion of his practice consisted of the development and presentation of engineering seminars and short courses. These were offered through university continuing education programs (most notably that of The George Washington University in Washington, D.C.) and directly to telecommunication carriers, equipment manufacturers, and government agencies.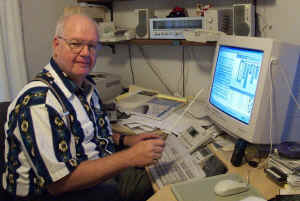 Here we see Doug "conducting" a fully-automated performance of his arrangement of Richard Strauss' "Solemn Entry of the Knights of the Order of St. John"
Doug has previously been a registered/licensed professional engineer in the states of Ohio, New Jersey, New Mexico, and Texas, and currently hold a Professional Engineering license (retired status) in New Mexico. He holds several United States patents in the fields of telephone switching and information systems, including the Capitals Lock key now universally used on computer and data terminal keyboards and what many authorities consider to be the definitive patent on the Token Ring protocol used in computer networks. (IBM, who bought a license under another patent covering the same concept, thinks otherwise.)
In the 1960's, Doug was active in domestic and international standards work in the field of information codes and related matters, and was an author and principal editor of the published standards document for the first complete version of ASCII.
Besides his interest in telecommunication systems, Doug is also active in the areas of digital photography and computer music notation programs.
Doug and his wife Carla live in Alamogordo, New Mexico (about 90 miles north of El Paso, Texas).
To e-mail Doug, click here:

2013.12.24 1720